CNC LATHE for Marine Long Shaft Machining
CNC LATHE for Marine Long Shaft Machining
Model DY-1000C~1100C, bed width 1040mm, 3 guide way flat bed lathe is special made for long shaft machining.
Long shaft machining is one of the most common machining process for heavy duty CNC lathe. Long shafts for some industry such as pump shafts, axle shafts, spline shafts, propeller shafts, marine propeller shaft, propeller marine shaft, marine propeller transmission shaft, windmill shaft for wind turbine.
When the shaft is long and thin, vibration of the shaft occurs because of unbalance of the shaft and causes bad machining surface.
Steady rests to hold the long shaft is most common used.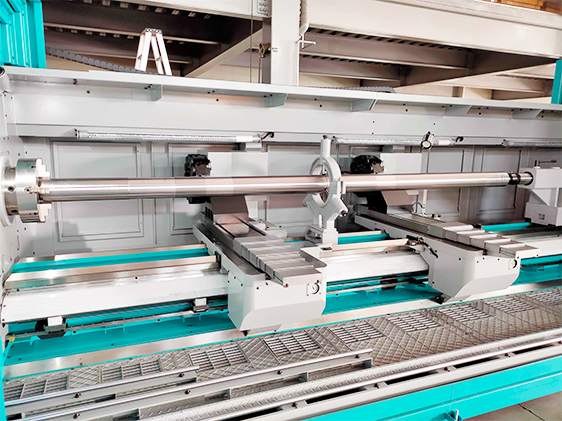 Standard 2 guide way lathe will not allow the turret to pass the steady rest, therefore it could not make complete long shaft peeling cutting, or the first rough outside cutting.
The solution is to have 3 or 4 guide ways so the turret carriage will use different guide ways from the steady rest. And the steady rest can be produced C type (open type). This way the cross slide and steady rest will not interfere with each other.
To hold the long ship's propeller shaft, both hydraulic steady rests and manual C type steady rest are available and can keep stability for machining.
Heavy duty tailstock with live quill, installed with chuck, will also help to hold the long shaft.