CNC Oil Country Lathe for Oil Pipe Machining
Heavy duty and big spindle bore, plus double chuck, make it born for oil pipe machining.
Since this machine is specially made for machining long oil pipe, long oil tube, oil tubing, oil drill pipe, etc.
therefore normally extra larger spindle bore with big through hole is required.
Normally machining end of the pipe with taper threads is the most common work. No need long lathe bed.
Model DY-1200C~1500C series the headstock is big enough for large spindle and large spindle bearings.
For best performance we also provide auto change 3 gear steps,
that means the motor power and torque will be enlarged through 3 different speeds and gear ratios.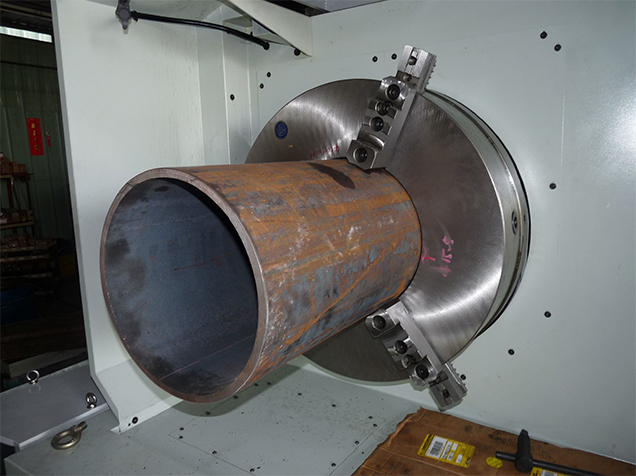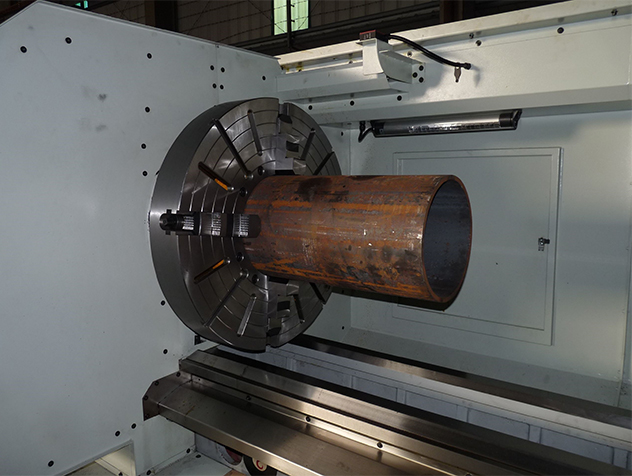 The spindle bore available for this DY-1200C~1500C are as follows:
Spindle bore 310mm, Spindle bore 360mm, Spindle bore 375mm, Spindle bore 410mm,
Spindle bore 560mm, Spindle bore 620mm, Spindle bore 640mm.
When with larger spindle bore, it is necessary to choose big through hole chucks.
If customers need the auto clamping chuck or power chuck, pneumatic chuck (air chuck) is the best solution.
Most customers request to have rear spindle nose, which is rear adapter for rear chuck.
Thus the lathe with large spindle bore will be with double chucks or dual chucks,
which provides the best gripping force for oil pipes.
Some customers also decide to have different combination for front chuck and back chuck:
Manual self-centering 3 jaw chuck + independent 4 jaw chuck.
Two air chucks on both sides.
One air chuck + one manual chuck.